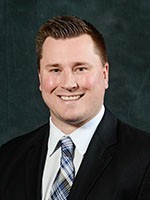 Union College, Head Coach
---
NCAA: Division I
Conference: ECAC
Location: Schenectady, NY
Enrollment: 2,242
Official Homepage
Email: scibaj@union.edu
Phone: 518-388-6771
---
Josh Sciba has recently been named the new women's head coach at Union College.
Prior to Union, Sciba had been on the bench with the Colgate Raiders as an assistant coach for 4 seasons. Previous to Colage, Sciba served as the Head Coach for the women's hockey team at Niagara University in 2011-2012 after spending three seasons as an assistant coach with the program. He led the Purple Eagles in its final varsity year to a 10-16-8 record.
In addition to his coaching experience at Niagara, Sciba has participated in USA Hockey Girls Player Development Camps for the last five summers as either a Head Coach or On-Ice Skills Instructor/Scout.
Prior to his coaching career, he played professional hockey in the East Coast Hockey League for three different teams during the 2007-08 season. He played for the Las Vegas Wranglers, Bakersfield Condors and Dayton Bombers. Sciba is a 2007 graduate of the University of Notre Dame, where he was a member of the hockey team from 2003-2007.
RinkSport welcomes Coach Sciba to the 2016 coaching staff for the first time in camp history.
---