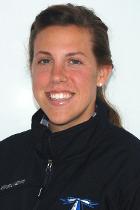 University of Massachusetts Boston , Women's Head Coach
---
NCAA: Division III
Conference: ECAC East
Location: Boston, MA
Enrollment: 12,366
Official Homepage
Email: Lindsay_Berman@brown.edu
Phone: 401.863.7451
---
Lindsay Berman, a former standout at Northeastern University and assistant coach at Brown University, entered her first season as Head Coach for the UMass Boston Women's Ice Hockey program. Berman returns back with the Beacons after spending one season strengthen the women's program at Brown. From 2011 to 201414, Berman was an assistant coach at UMass where she helped the Beacons steadily improve during her tenure and reach the ECAC East Tournament semifinals in 2013-14. While with the Beacons, Berman implemented practice plans, broke down video, planned the team's travel, and coordinated recruiting efforts.
As a collegiate player, she played in 135 career games from 2006-10 at Northeastern where she captained the team as a senior and earned a spot on the 2009 Hockey East All-Star Team that played the US national team.Berman gained one of seven spots on Northeastern's All-Decade (2002-12) team and also garnered an invitation to the USA Under 22 National Development Camp in 2008.
A 2011 graduate of Northeastern, Berman went on to play for the Boston Blades in the Canadian Women's Hockey League from 2010-14 after her career as a Husky. Berman captained the team during the 2013-14 season and won the league's title, the Clarkson Cup, in 2012-13. In the Fall of 2015, Berman was drafted by the Connecticut Whales of the National Women's Hockey League, stamping history and continuing her passion for the game.
Coach Berman has been part of the RinkSport staff in 2015.
---